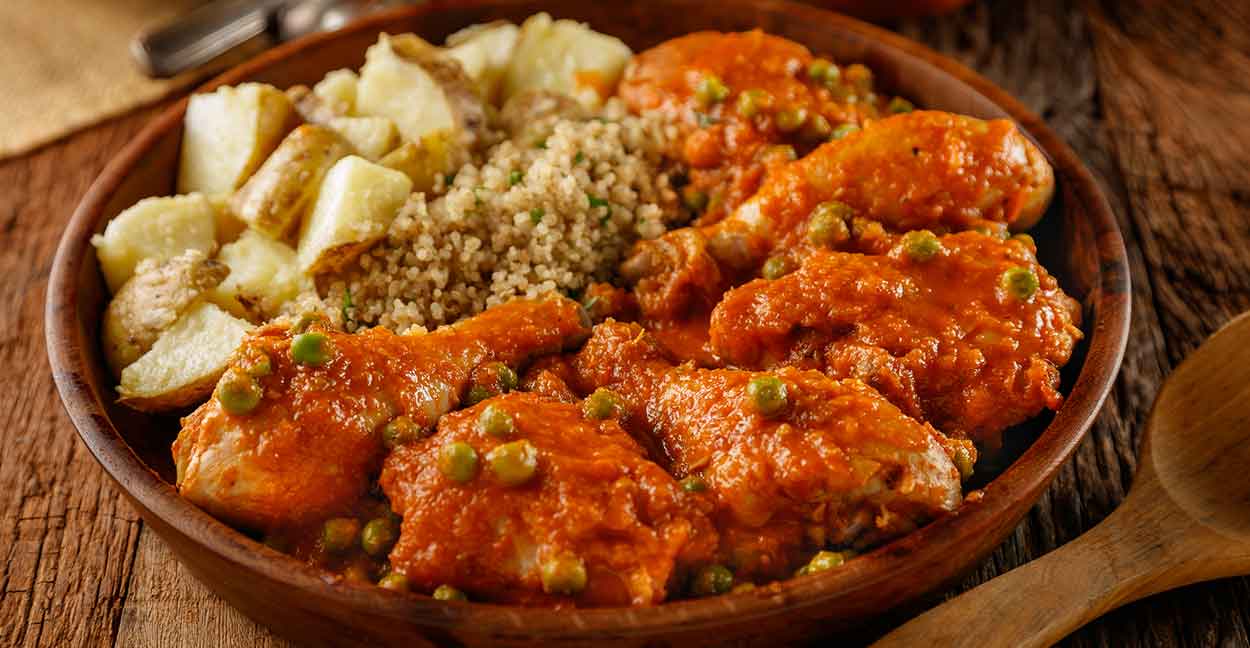 Picante De Pollo Con Quinoa – Pollolin
Are you a fan of spicy food? Do you enjoy bold flavors that awaken your taste buds? If so, then you're in for a treat with this incredible recipe for picante de pollo. This mouthwatering dish combines tender chicken with flavorful spices and a touch of heat. It's the perfect balance of savory, spicy, and satisfying. Get ready to take your taste buds on a culinary adventure with this delectable recipe.
Ingredients
2 pounds of chicken, cut into pieces
1 onion, finely chopped
4 cloves of garlic, minced
2 tablespoons of olive oil
2 tablespoons of tomato paste
1 tablespoon of paprika
1 teaspoon of cumin
1 teaspoon of chili powder
1 teaspoon of oregano
1 teaspoon of salt
1/2 teaspoon of black pepper
1/2 teaspoon of cayenne pepper
1 cup of chicken broth
1 cup of quinoa
Fresh cilantro for garnish
Preparation Method
Before we dive into the step-by-step instructions, let's talk about the preparation method for this delicious picante de pollo recipe. The first thing you'll need to do is gather all of your ingredients. It's essential to have everything ready and within reach to ensure a smooth cooking process. Once you have everything prepared, you can begin creating this explosive dish.
Step-by-step Instructions
Now that you're familiar with the ingredients and have prepared everything, it's time to jump into the step-by-step instructions for making picante de pollo:
Step 1: Sear the Chicken
Start by heating olive oil in a large skillet over medium-high heat. Once the oil is hot, add the chicken pieces and sear them until they are golden brown on all sides. This should take about 5 minutes per side. Once the chicken is seared, remove it from the skillet and set it aside.
Step 2: Sauté the Onions and Garlic
In the same skillet, add the chopped onions and minced garlic. Sauté them until they become fragrant and the onions turn translucent, usually about 2-3 minutes.
Step 3: Add the Spices
Next, add the tomato paste, paprika, cumin, chili powder, oregano, salt, pepper, and cayenne pepper to the skillet. Stir well to combine the spices with the onions and garlic, allowing them to release their flavors.
Step 4: Deglaze the Skillet
Pour the chicken broth into the skillet, using a wooden spoon to scrape up any browned bits from the bottom. This process, known as deglazing, helps to infuse the dish with rich flavors.
Step 5: Simmer and Cook
Return the seared chicken to the skillet, along with any accumulated juices. Stir to coat the chicken in the flavorful sauce. Reduce the heat to low and cover the skillet. Let the dish simmer for about 30 minutes, allowing the chicken to cook through and absorb the flavors.
Step 6: Cook the Quinoa
While the chicken is simmering, cook the quinoa according to the package instructions. Quinoa is a nutritious grain that makes a perfect accompaniment to this spicy dish. Once the quinoa is cooked, set it aside.
Step 7: Serve and Garnish
Once the chicken is cooked and tender, it's time to serve the picante de pollo. Place a generous portion of the flavorful chicken on a plate, alongside a scoop of cooked quinoa. Garnish the dish with fresh cilantro for a pop of vibrant color and added freshness.
This recipe makes about 4 servings, and the nutritional information per serving is as follows:
Nutrition Facts
For a serving size of approximately 1 cup of chicken and 1/4 cup of quinoa:
Calories: 320
Total Fat: 10g
Saturated Fat: 2g
Cholesterol: 80mg
Sodium: 680mg
Total Carbohydrate: 23g
Dietary Fiber: 3g
Total Sugars: 3g
Protein: 35g
Type of Dish
Picante de pollo is a bold and flavorful main dish that can be enjoyed on its own or paired with other side dishes. It's a versatile recipe that can be served for lunch or dinner, making it a fantastic option for any occasion.
Number of Servings
This recipe yields approximately 4 servings, but you can easily double or triple the ingredients to accommodate a larger crowd.
Dietary Restrictions
This picante de pollo recipe is naturally gluten-free, making it suitable for individuals with gluten sensitivities or dietary restrictions. It's also low in carbohydrates and can be enjoyed as part of a balanced diet.
Allergies
This recipe contains chicken and may not be suitable for individuals with poultry allergies. However, you can adapt the recipe by substituting the chicken with tofu or vegetables for a vegetarian or vegan version.
Cuisine Style or Geographic Region
Picante de pollo is a popular dish in Latin American cuisine, particularly in countries such as Mexico, Peru, and Ecuador. Each region adds its own twist to the recipe, resulting in unique flavor profiles.
Occasion
Whether you're hosting a dinner party, looking for a comforting meal on a cold evening, or simply craving something spicy and delicious, picante de pollo is the perfect dish for any occasion. It's a crowd-pleaser that will impress your guests with its bold flavors.
What is this Dish For?
Picante de pollo is a dish that is meant to be savored and enjoyed. It's a comforting and satisfying meal that can be served as the main course. The spiciness of the dish adds an exciting element, making it an ideal choice for those who appreciate bold flavors.
Time Available
This recipe requires approximately 45 minutes of preparation time and 30 minutes of cooking time. It's a relatively quick and straightforward dish that can be made on busy weeknights or leisurely weekends.
Cooking Skill Level
This recipe is suitable for cooks of all skill levels, from beginners to seasoned chefs. The step-by-step instructions provided ensure that you can confidently recreate this flavorful dish without any hassle.
Kitchen Type
You can easily prepare picante de pollo in a regular home kitchen. All you need is a stove, a skillet, and basic cooking utensils. It's a versatile recipe that doesn't require any specialized equipment.
Now that you have all the information you need, it's time to put on your chef's hat and get cooking. Prepare to indulge in a tantalizingly spicy and flavorful dish that will leave you craving more. Enjoy!
FAQs
1. Can I make this dish vegetarian?
Yes, you can easily adapt this recipe to be vegetarian or vegan. Simply substitute the chicken with tofu or a variety of vegetables such as bell peppers, zucchini, and mushrooms. You'll still be able to enjoy the incredible flavors of the spices and sauce.
2. How can I make this dish milder?
If you prefer a milder version of picante de pollo, you can reduce the amount of cayenne pepper or omit it entirely. You can also adjust the amount of chili powder to your desired level of spiciness.
3. Can I freeze the leftovers?
Absolutely! This dish freezes well, making it a convenient option for meal prep or preserving leftovers. Allow the dish to cool completely before transferring it to an airtight container or freezer bags. When you're ready to enjoy it, simply thaw and reheat in a skillet or microwave.
4. What side dishes go well with picante de pollo?
There are several side dishes that pair perfectly with picante de pollo. Some popular options include cilantro lime rice, black beans, roasted vegetables, or a fresh green salad. These sides complement the flavors of the dish and add additional texture and nutrition to your meal.
5. Can I make this dish in a slow cooker?
Yes, you can adapt this recipe to be made in a slow cooker. Simply follow steps 1 and 2 as directed, then transfer the seared chicken, sautéed onions, garlic, and spices to a slow cooker. Add the chicken broth, cover, and cook on low for 4-6 hours or on high for 2-3 hours. When ready to serve, cook the quinoa separately and garnish the dish. The slow cooker method allows the flavors to meld together even more, resulting in an even more tender and flavorful dish.